Was your company built for the industrial age and you are trying to operate in the digital world?  Here's how we help you sift through the noise around industry 4.0, modernize your businesses, and get tangible results, fast!
A smart & flexible approach
Your business needs change on a daily basis. Modernizing your technology will help you meet these changing demands.
Implement connected technologies
Seamless connectivity eliminates communication gaps and time wasted associated with manual workarounds.
Attract, retain & engage your workforce
Work on exciting projects, provide long-term career development, job security and collaboration opportunities.
Prioritize your opportunities
We'll help you understand the full scope of your opportunities so we can focus on the highest benefit components first.
Augment your team's ability
We work hand in hand with your team to implement the "smart manufacturing playbook"
Secure your company's future through empowered people, innovation, connected technology & automation
Making the transition from the industrial age to the digital age is no small feat. There are plenty of distractions and pitfalls along the way. To increase your chances of success, it is pertinent to "start with the end in mind" and build a solid foundation around the seven primary components that make up the core of this revolution.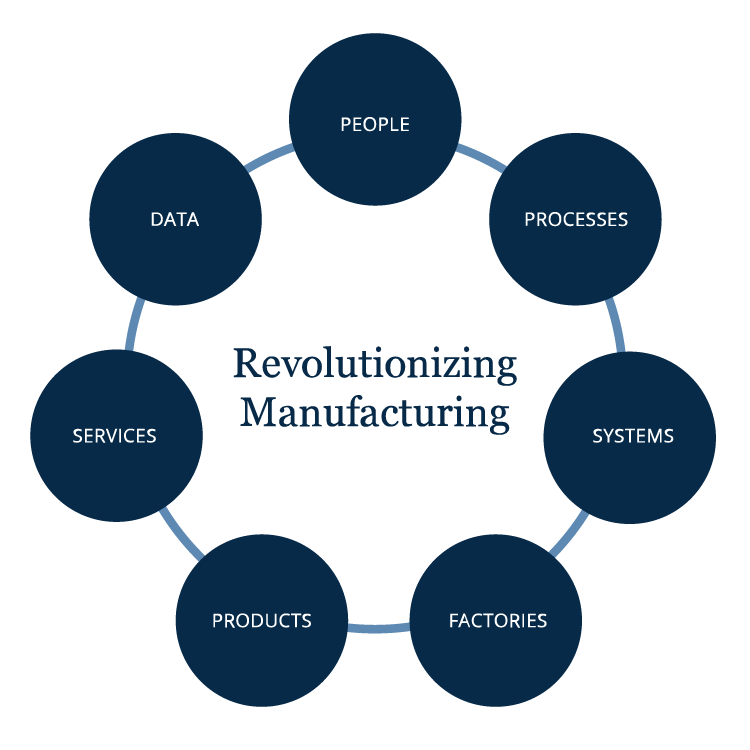 While 83% of engineering and manufacturing leaders agree they need to invest in smart manufacturing, around 57% also feel their organization lacks the skilled workers they need to support transformation plans. Almost by definition, your most capable people are consumed with running the business. Often, they don't have time available to figure out how to adopt new Smart Manufacturing technologies that will improve asset utilization, reduce daily firefighting and ultimately revolutionize the business.
We work with your team to create an optimized and connected, action plan. Our systematic approach increases the probability of a successful transformation and brings your team up to speed.  Some examples of major innovations we support include automation, robotics, IoT connectivity, system integration, data analytics, smart factories, cyber security, machine learning, and, of course, your biggest asset – your people.
A few expert tips to keep in mind:
Start with the business needs

and work backwards to the technology.

Choosing the right technology does not guarantee success.  We must also have the

correct organizational readiness

.

Focus on opportunities that

move the needle.

Encourage your team to

break barriers

. Celebrate learning for both successes and failures.  
CONTACT A SMART MANUFACTURING EXPERT
Our seasoned team of world-class consultants and industry experts listen, observe and deliver results
We are focused on helping our clients become the world's best engineering and manufacturing companies
Our lack of bureaucracy means we have an empowered team who can make decisions quickly
We have a results-driven culture willing to do what it takes to get the job done
We have worked with some of the world's largest public and privately held companies
\n